Playing Fearlessly
by Ryan Krzykowski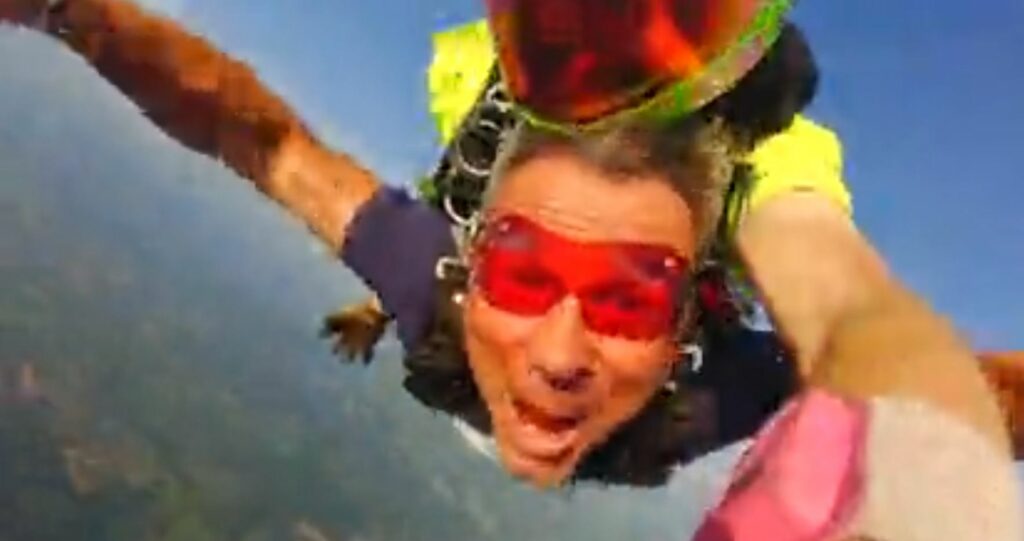 (This post has very little to do with my skydiving trip on Father's Day, but I thought the photo captured the idea of "fearless", and provided me a cool opportunity to show off how my family sent me skydiving).
A few posts ago I gave a plug for our friend David Smale and his podcast, Sports Connections, (for which I was interviewed by David for Episode 42).  I realize that it's getting more and more difficult to keep up with all the fantastic podcast content that's out there these day, but I also know that on 1.5 speed a 30 minute podcast can often be knocked out in a normal day of driving.  And on the trip our family just took to Boston, I was able to enjoy many hours of pods on the planes and in the airports.  So it can be done. 
With that said, I introduce you to a podcast produced by another friend of CFC, Bill Severns.  Bill's Keepers of the Sandlot book series is a must for youth coaches and sports parents, and I just checked out the latest episode of his Keeper's Legacy pod.  Bill talks with his good friend and former MLB All-Star Kevin Seitzer, and their conversation is loaded with gems.  The nugget that stuck out to me the most had to do with fear, and teaching young people to play sports and live life with the kind of fearlessness that will enable them to max out their potential.  The story begins around the 10 minute mark, and it's worth every bit of the 5 or 6 minutes it takes for Kevin to make his point.  (And at 1.5 speed, it only takes 3 or 4 minutes.)  My favorite quote from Kevin's story:
"If you've got fear — you're toast.  Fear, doubt, worry, stress, anxiety…paralyze athletes".
We're so thankful for people like David, Bill and Kevin…men who are committed to using sports to change lives.
Let's Coach With Purpose…