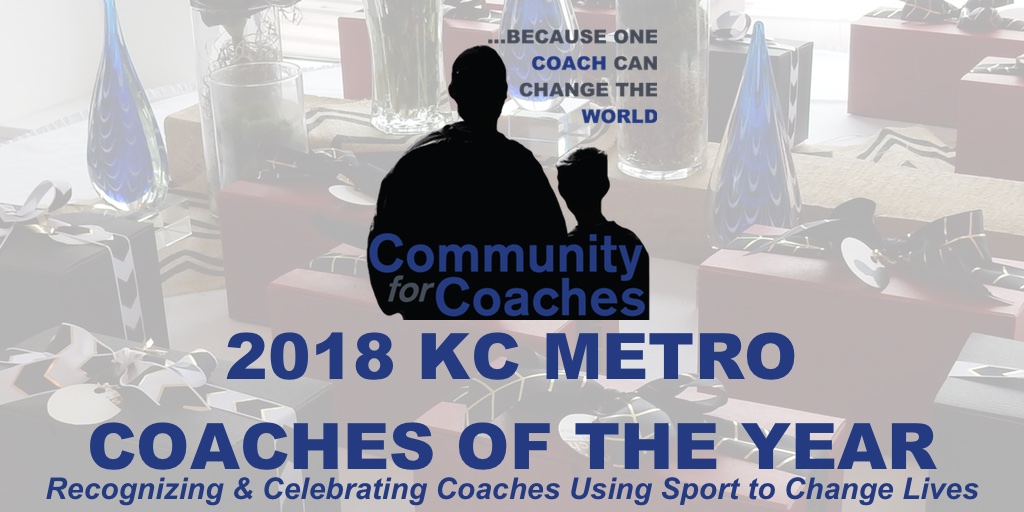 2018 Coaches of the Year Accepting Nominations Now!
Community For Coaches' KC Metro Coaches of the Year Award exists to recognize and celebrate coaches who are using sport to transform lives.
NOMINATIONS DUE - MARCH 17, 2018
Beginning on February 1st, nominations will be live online at communityforcoaches.org.  Athletes, parents, administrators and other Coaches are encouraged to nominate a deserving Coach.  These are women and men who are making a difference in communities, families and the lives of individuals.  This is your chance to let the world know about your favorite Coach!  
Nominations will run from February 1 – March 17, and the CFC selection team will announce the finalists on April 2nd.
FINAL VOTING BEGINS - APRIL 2, 2018
Final Voting Process
Once the finalists have been determined, the online voting will begin at communityforcoaches.org.  Voting is scheduled to run from April 1 – 17.
The coaches (1 male, 1 female) receiving the most votes will be selected as our 2018 KC Metro Coaches of the Year!
AWARDS BANQUET - APRIL 29, 2018
Awards Banquet
Our 2018 KC Metro Coach of the Year Awards Banquet will be held on the afternoon of Sunday, April 29, 2018.  Our finalists will all be recognized and we'll announce the leading vote getters for 2018 KC Metro Coaches of the Year!  
Every finalist will receive a Prize Package including gift cards, movie passes, ballgame tickets and more!
History
Want to learn more about our past KC Metro Coaches of the Year Finalists and winners? Click the links below to visit our pages from our previous years.