Pray?
by Ryan Krzykowski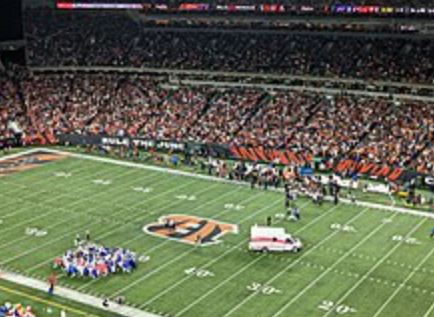 We've seen them before here in America, and they come in all varieties.  Sometimes our lives are changed forever, and sometimes the news cycle moves on after 48 hours and we never give it another thought.  Sometimes these events have global consequences and other times they don't.  But when something terrible happens that dominates the news for the better part of a week or more, we almost always see people come together in powerful ways.  We see an outpouring of support, messages of love and generosity, and requests for prayer.
When Damar Hamlin collapsed to the turf on January 2, it was brutal to watch.  And it was alarming to see the reaction of teammates, opponents and NFL personnel.  We've seen hundreds, maybe thousands of players remain on the field after a play over the years.  This was clearly different.  Everything about the reaction on the field told us it was different. 
Make no mistake — what happened to Damar Hamlin on the field in Cincinnati was not good.  It was awful.  But as is usually the case, even in the midst of something awful, there is good to be found.  The league-wide and nation-wide support for this man was heartwarming.  The money that poured in to support his charity work was unbelievable.  And then there's the matter of prayer.  When tragedy hits, it becomes far more common for us to ask for prayer, to talk about prayer and to actually pray.  It's like we know, in those terribly difficult times, that we can't do this ourselves.  There's something wired into us that knows we have a Creator who cares, and when things are looking bleak, we allow ourselves to take down our masks and acknowledge that we need Him.
I'm not at all happy that Damar is going through all this.  I wouldn't wish his struggles on anyone.  However I am hopeful that maybe there are some of us out there who, seeing all the talk about prayer, might discover or rediscover the joy of knowing and communicating with our God.  I am confident I'll never understand exactly how prayer works — why things are the way they are, why God heals some and not others, for example.  But I want to grow in my love of prayer, not only when disaster strikes, but anytime I want to connect with the ultimate source of love, the God who made each of us.
Let's Coach With Purpose…