Ancestors
by Ryan Krzykowski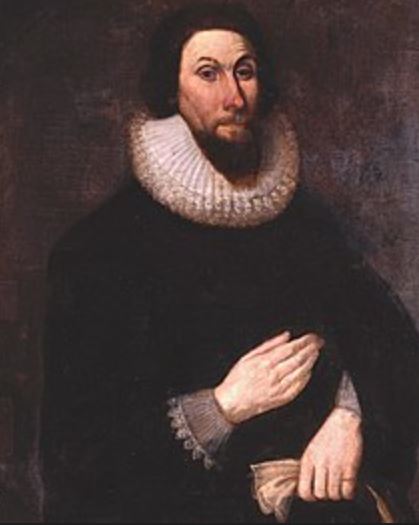 A couple years ago my brother got curious and started doing some digging on an ancestry website.  He was able to determine with a fairly solid level of certainty that going back 15 generations, into the early 17th century, we have an ancestor named John Winthrop.  Winthrop (or Grandpa John, as we've begun calling him) was an early settler in Massachusetts, serving as Governor of the new colony.  I realize my last name doesn't suggest Colonial American blueblood, but Winthrop is on a branch of the family tree that ends with a great grandmother who I knew pretty well, whose birth name was Burrows.
Fascinated by this discovery, I wanted to know more.  I read a very long, dry Winthrop biography.  When our family took a summer trip to Boston, I paid special attention to the plaques, signs and other Winthrop-related monuments.  I also did the math and realized that while I have just two parents, four grandparents, etc., that going back that far there would be many thousands of ancestors at that level of the tree, so my ties to John Winthrop are hardly unique.  But even so, it was kind of cool to ponder and learn about a tiny slice of where I came from. 
Our friend John O'Sullivan's book Every Moment Matters wraps up with a section that I find inspirational each time I read it.  Entitled "A New Definition of Success", John provides examples and illustrations that can motivate us to action.  He talks about how our influence as coaches carries on after we are gone, and that we are coaching "the next generation of coaches".  John references the international rugby powerhouse New Zealand All Blacks and their saying "Be a good ancestor".  Honestly, the implications of that saying are abundant, and they apply not only to us as coaches, but also to the athletes in our programs.  Applied to athletes, being a good ancestor means doing one's best to leave the program better than it was when we came on board.  It means treating the institution with such respect that those who follow intuitively understand they are part of something special.  Providing opportunities for our players to reflect on and grasp that idea seems like a potentially huge deal with no downside at all, a win across the board.
For us as coaches, being a good ancestor means, as Coach O'Sullivan puts it, "planting trees you will never see grow", as those we coach become coaches for their own children, along with the athletes who will be playing many years or even decades from now.
Be a good ancestor — I love it.
Let's Coach With Purpose…