RIP Lepp (1980-2020)
by Ryan Krzykowski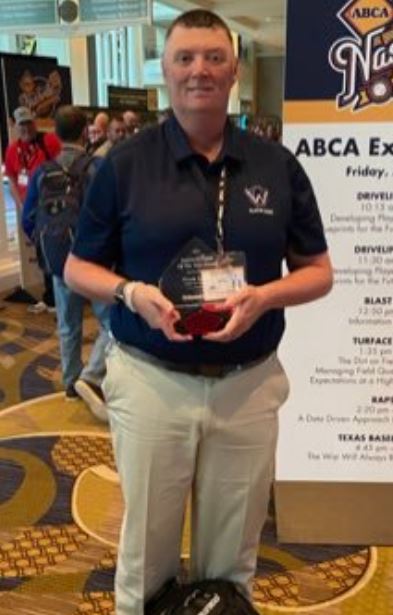 A few weeks ago the coaching/sports community of Kansas City lost a giant.  To those who knew Derek Leppert, aka "Coach Lepp", he was a dependable, consistent source of joy.  The guy never seemed to be having a bad day.  He always seemed to have just the right words to bring a smile.  He wasn't shy with his opinions, but that was part of his charm.  It was pretty much impossible not to like Lepp.
I have worked in the same high school with Lepp for the past couple years, and I knew he was in the hospital battling COVID.  But the day before he died he had been relocated to a care facility and word was he was going to be OK.  And then, just like that, he was gone.  We were shocked.  One day earlier, Lepp had tweeted out "Settled into my long term care room. Going to be a battle starting at 7:30 in morning but I will be back stronger."
At Derek's funeral, the pastors did a beautiful job of celebrating the life of a man who loved Jesus and who put others first.  One of his fellow coaches delivered a powerful eulogy, sharing just the right combination of funny stories and heartfelt tribute.  In that eulogy, we heard about Lepp's interview for a spot on a high school baseball staff, leading a sub-varsity team.  When Lepp, a former college assistant and head baseball coach, was told he was quite overqualified for the position, he responded with something like, "That's not important.  I just want to be somewhere to make a difference in the lives of kids."  A perfect reply from a man who coached with purpose.
Sitting at that funeral, I thought back to my favorite Lepp moment.  We were at a staff meal early in 2020, and the two of us ended up sitting across from each other.  Listening to the music playing in the background, Lepp and I spent about 30 minutes just talking music.  He told me about a favorite site of his, "Live From Daryl's House", which features big names in the industry coming to perform in Daryl Hall's basement of all places.  It's pretty great.  Interestingly, we also spent time talking about which famous singers we'd like to have hired to sing at our funerals.  It maybe sounds kind of morbid now, but at the time it was a lot of fun to kick that around.  And so I couldn't help but smile as the closing processional at the funeral was accompanied by "Maneater".
RIP, Derek Leppert.  You left our world better than you found it.  Thank you.