Camp Smokey
by Ryan Krzykowski/Sam Knopik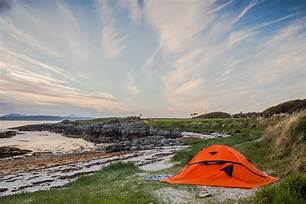 Last week I received an email from Sam Knopik, a good friend and Head Football Coach at Pembroke Hill, a school in Kansas City.  Sam had decided to loop me in on a camp adventure that he'd arranged for his players and coaching staff.  As I read, it was clear to me that his account of the team's time away provides a nearly perfect depiction of transformational coaching.  We close every post on our site with the line, "Let's Coach With Purpose…" and reading Sam's words provides an image of a leader who is doing just that.  No doubt it takes more than one person to pull off a trip like this, and it's not something everyone can do.  But what everyone can do is be intentional about putting forth this type of effort and coaching with an eye on providing experiences that transcend a particular sport.  Basically, everyone can do their best to care about young people the way Sam does — as you read, you'll see what I mean.
Below is the text of an email that went out to players' parents, and I've removed the names of the players to protect privacy.  If you're intrigued by what you read and would like to talk about planning something similar for your team, please feel free to reach out to me at ryan@communityforcoaches.org and I'd be happy to connect you with Sam.
_____________________________________________________________________________________________________
At 8:42am the bus rolled out of the HSC Lot with coolers full of food, fishing poles, and 34 campers. First stop: Paintball Ridge!!!
To add an element of overall competition to the weekend the team was divided into four squads:
KP – The most distinguished of the squads as they are given the most important duties – meal preparation. Led by Coach Hornback this group is hand picked by Coach Hornback and a few select senior leaders. They rise in the morning earlier and work later than anyone else. They eat last and mop floors. Ultimately, they lead through selflessness.
DDK – An acronym for our offensive mentality, DOWN-DOWN-KICKOUT, this squad came out hot nearly sweeping every single Paintball Ridge event.
RED 9 – A term used to signify the importance of the most forward playing 9 positions in our defensive schemes.
SQUAD "31" – In 2003 the Pembroke Hill Raiders forced a school record of 31 turnovers on their way to 10-1 campaign. The past 20 seasons we have set the 31 bar out there for each successive team to overcome and while some years we have come close, have not been able to achieve.
Paintball Ridge – One player was awarded a Paintball Ridge trucker cap for his bravery in storming towards a fortified siege wall with a small window. Unseen in his blitz he eliminated 6 or 7 of the enemy before his position was exposed. Overall, it was an ongoing lesson in communication and strategy design. Most importantly, the group crushed a mess of homemade pizzas made on site by two of the sweetest cook chefs in the Ozarks!
Competition Afternoon – After arriving at Camp Smokey we settled into our barracks, KP put away the food inventory into the kitchen and the squads began two different ongoing tournaments. First was a wiffle ball showdown that was cut short in the bottom of the last inning with KP up on DDK. KP was called to dinner prep with one out to go which led to controversy! The inning was eventually finished when KP polished off the side with fancy wiffle ball pitching. The basketball tournament was won by DDK, which combined with their paintball victory, had stormed their way to a commanding lead after the first day! It was in the time between competition and dinner that I discovered that two of our guys are supreme guitar players!! Next year they will be called upon to put on a show!
Dinner was fantastic as we were served burgers, turkey brats, homemade french fries, salad and the bottomless supply of Gatorade donated by Coach Huff! After the meal players were asked to illustrate a scene of when they were at their best and on the other side of the page a scene of when they were NOT at their best. We put those in our pockets and headed to the campfire.
Campfire Time #1 – Coach Justus and his young son brought s'mores! Many of the boys played for Coach Justus as middle school football and basketball players over the years and it was rewarding to see that long term connection. Coach Justus participated in all of our weekend activities and led small group discussions along with Coach Guthrie, Coach Love, and Coach Hornback. Our first breakout small group talk was pulling out those pictures we created and going around the circle in an attempt to discover something about ourselves and each other. Returning to the campfire to recap the exercise someone suggested we were a group of ambitious guys who were proud of our accomplishments yet understood we were very human and humbled by our limitations. Before lights out on Day 1 they had a couple hours of free time which saw the building of one of the largest Camp Smokey bonfires I've ever witnessed. Very impressive, and a bit scary.
When I entered the KP barracks at 6:30a to get them headed down to the kitchen I was met at the door by a team leader who said he was letting them sleep another 15 min but guaranteed breakfast would be served on time. It was.
Coffee, Calisthenics, and Quiet Time – The other three squads met at the firepit for morning announcements at 7:30a followed by a morning jog and calisthenics. In the past, celebrity Coach Larry Jewell has made a special appearance for morning Coffee & Calisthenics but due to unforeseen issues on his 2022 World Tour, Coach Jewell was unable to attend this year. Following the morning exercises the boys were given what was likely the most challenging activity of the weekend: Quiet Time.  Each guy was to find a place around the campus separated by 30-yards from anyone else and spend 10 min in Quiet Time. Their instructions included considering someone or something they were thankful for. We then all went to the kitchen for the first of the days' three awesome meals.
Trout Quest – Following breakfast the boys hiked to the Roaring River State Park Hatchery where we spent the entire morning fishing. Without a doubt, this is the highlight of the weekend. So many life lessons wrapped up in the seemingly simple activity of throwing a line in the water. At final count we netted 14 fish, although to hear the stories later you would've thought the group had hooked 100 fish! A couple of the neatest things happened on the way back to the camp. As we crossed a bridge over the river we witnessed an old fly fisherman hook, fight, and net a trout. A group of us stood and watched in silence this epic battle of man and fish. When the trout was lifted out of the water in the old angler's net the boys began cheering! Near the campsite Roaring River has recently built a fish cleaning station and all the guys who caught a fish were treated to a lesson on cleaning their catch by a local expert. It was unscripted and beautiful.
Hike of Trust – Following a hearty spaghetti lunch and rest the squads followed me to the trailhead of the epic Firetower Trail. In the four years of the team hiking the Firetower Trail a couple of stories have reached mythological levels. There is one story of how one former Pembroke Hill player hiked the 3.75 mile loop in flip-flops and another about a different former player sprinting the entire loop to retrieve the stolen PCD-Lillis Shelleigh that was taken from the trophy case and hidden at the top of the tower. This year's challenge was designed to build on our theme of communicating effectively. The boys were paired-up and the first was blind folded. He was to be led 1/2 way up the trail by his partner and the two switched roles the rest of the way. The first objective was not a race but simply to arrive at Firetower uninjured! Once we were all gathered at the base of the tower the small groups discussed what worked, what didn't work, and what appreciations they now had for a partner they had to trust with their physical health! For the competition, won again by DDK, was a paired blindfolded timed race to the top of the 40 foot lookout tower built in 1937 by the Civilian Conservation Corp. A blindfolded duo achieved the summit in a blistering 25.01 sec!
Fish Fry & Team Skits – The Sunday night dinner included the fish we caught plus some store bought breaded cod, and some of the best pasta and cheese we've ever tasted… WOW. The skits were well done by all but saw the skit awards go to Squad "31." The Fish Fry dinner was an absolute masterpiece by the KP squad who also returned to the kitchen each night about 10pm to prepare a midnight snack of cheese pizzas for everyone both nights!
Campfire Time #2 – The boys were entertained by a reading of the poem "The Cold Within" by 8 members of the team. Then players, in pairs, were to use non-verbal communication to express something important to them, and the partner was expected to completely understand the conversation without asking any questions. We discussed the ways in which we have to use non-verbal communication during a game and also what our non-verbal body language says about us to others. In a concluding exercise, each player took a turn throwing their log on the fire to symbolically demonstrate their commitment to each other. Before tossing the wood on the fire they took a minute to share what the team meant to them or what they were willing to do to make the team better. As we concluded with a final team breakdown in front of a huge roaring fire, Coach Guthrie pointed out to them that everyone threw a modestly sized stick into the fire; Nobody threw a large log yet it raged in a towering inferno.
Quiet Time, Breakfast & TEAM TRIVIA – Once again the KP crew produced an amazing meal of biscuits and gravy, eggs, and turkey bacon. Meanwhile the other three groups went for their jog, exercises and Quiet Time. This time each camper was given a postcard and a pencil, asked to consider a former teacher and something specific that they should be grateful for. They wrote a thank you note which I will deliver this week. The final competition ended with team trivia after breakfast which included listing every Raider alum currently on a college football roster and other fun facts related to this team and our school. For the second year in a row KP Squad finished as the overall Camp Smokey Champions.
The bus rolled out of Camp Smokey at 10:30a bringing to an end one of the best trips we've ever had. You should be proud of your sons. They are great kids, open to challenging their comfort level and rising to new challenges and learning new skills.
Have a great summer,
Sam Knopik
_____________________________________________________________________________________________________
Thank you for allowing us to share your story, Sam.  Let's Coach With Purpose…